Li Ning is a leading PRC sportswear player, selling sportswear products (including footwear, apparels) through distributors, licensees as well as its own retail stores.
Li Ning allows investors to benefit from the structurally growing Chinese sportswear market.
Earnings growth, driven by higher sales growth (from new stores, same store sales growth and e-commerce) and improving sales mix (allows for higher margins due to less discounts).
Despite its attractiveness, we prefer to wait for further pullback before buying in, considering that the share was trading as low as HK$4.60 in January 2017 (versus current price of HK$5.28).
Company Description
Founded by former Olympic gymnast Mr. Li Ning, Li Ning (OTCPK:LNNGF; OTCPK:LNNGY) is a top 3 Chinese sportswear company. The firm manufactures and sells sportswear products (including footwear, apparels) through distributors, licensees as well as its own retail stores (offline and online).
As of June 2016, the firm has approximately 6,200 stores and has actively culled loss-making outlets as part of its rationalization strategy. Li Ning's stores are located country-wide in the PRC, which is different from overseas brands to focus on the Tier 1 and Tier 2 cities in China. We appreciate the nationwide store networks and opine that it is consistent with its value-for-money pricing strategy, which accompanies its highly functional products.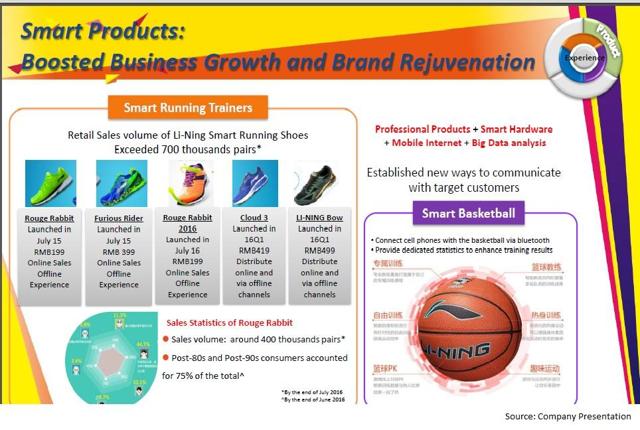 Furthermore, the company has actively sought to grow its e-commerce presence to benefit from the structurally growing Chinese sportswear and e-commerce space.
Investment Highlights
Chinese sportswear market on a structural growth cycle, supported by government policies…
Relative to developed countries such as the US (sports contributed 2.59% of GDP in 2015), China's sports sector remains a minor GDP contributor, accounting for only 0.7% in 2015.
In line with the Chinese government's plans to improve the quality of life for its people, it has targeted to grow the value of the domestic sports and fitness industry to RMB 5 trillion, more than 3x the RMB 1.5 trillion achieved in 2016. Also, a report by the Economist Corporate Network in December 2016 commented that data in Chinese government publications such as the Annual Report on Development of Sport for All in China showed that a 3% sports-to-GDP ratio is a desirable high benchmark. This is significantly higher than the number recorded in 2015 of 0.7%.
The Chinese government is keen to develop the sports industry with the aim to (1) improve the health and physical quality for citizens; (2) enhancing sports professionalism, especially in soccer and winter sports; and (3) increasing the sports industry's contribution to GDP.
As highlighted by the Economist Corporate Network, a notable government initiative for sports is the "Chinese Football Mid-to-Long-term Development Plan (2016-2050)". China has three key targets: to qualify again for the World Cup, to host a World Cup and to win a World Cup. As seen in other industries, when the private sectors have invested heavily as part of the official government policies push, domestic soccer clubs have already spent heavily (US$351m, which is >30% the total transfer spending of English Premier League Clubs) on recruiting foreign players.
… And rising health consciousness as the Chinese consumers become more affluent
As noted by Economist Corporate Network, approximately 50% of the population residing in Beijing (over the age of six) exercises at least once per week. Remote and relatively poor provinces - Ningxia, Xinjiang, Tibet, Qinghai - record the lowest percentages of frequent exercisers, registering participation rates of between 25% and 29%. We believe that these statistics support the argument that rising affluence does lead to increasing health consciousness and to the extent that more Chinese regions continue to develop economically, their population is more likely to participate in sports and fitness activities. The rising consumer power that accompanies such development will further increase demand for sportswear products. However, we do note that there were extensive upgrades to Beijing's public spaces and sports and fitness facilities leading up to and following the 2008 Summer Olympics, which we opine had also contributed to the higher exercise rates. Hence, continued government support in terms of improving/adding sports infrastructure is also necessary for the continued increase in sports participation rates in other parts of China.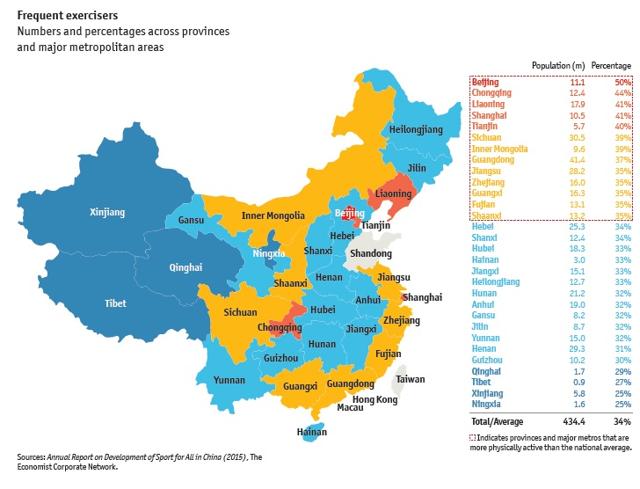 Operating earnings growth, driven by sales growth and higher gross margins. Sales growth driven by new stores openings, same stores sales growth and e-commerce sales: The leading branding position of Li Ning will be beneficial as the firm opens new stores across China. While foreign brands such as Nike (NYSE:NKE) and adidas (OTCQX:ADDYY) remain very popular in China, we would note that the premium pricing of their products (refer to below image for the prices of high-end products from Li Ning, Nike and adidas on Taobao) could potentially result in a smaller market size (versus domestic sportswear companies). In contrast, domestic brands such as Li Ning and Anta (OTCPK:ANPDY) have lower price points, allowing the firms to cater to the Tier-3 and Tier-4 cities in China as well as consumers in the leading cities with a smaller budget. Considering the above, we appreciate the larger market size enjoyed by domestic brands versus the foreign brands.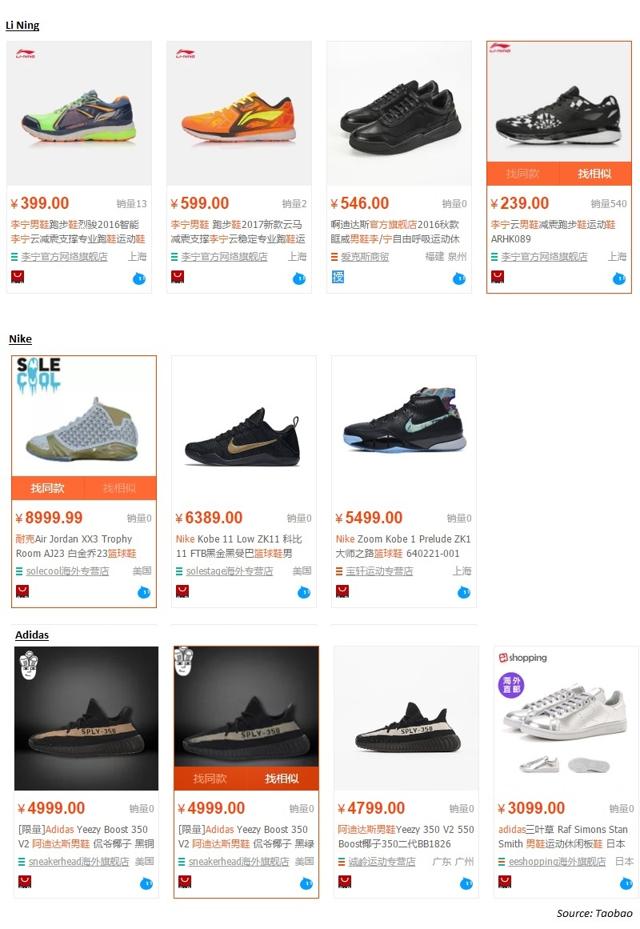 E-commerce presents an alternative channel for Li Ning to reach out to consumers: The rise of e-commerce allows for Chinese to purchase overseas branded sportswear at more attractive pricing. However, a check on Taobao has revealed that PRC sportswear brands remain competitively priced versus their foreign counterparts. Hence, we opine that e-commerce presents another sales channel for Li Ning to reach out to its customers. We do not view the threat of an e-commerce-only brand as significant, given that sportswear products of domestic brands such as Anta and Li Ning are priced competitively and also enjoy strong branding in China, which is the result of their large investments in R&D and event sponsorships.
Another area of concern is that e-commerce will cannibalize Li Ning's offline sales. With regard to this, we do note that Li Ning has differentiated its online and offline products. In 2015, Li Ning sold its digital runner exclusively online. Although customers could do their fittings at any offline stores, these could only be purchased from online stores. Besides selling >600k pairs, the campaign also increased footprint traffic in Li Ning's stores.
Improve product design: Li Ning has focused on improving its product functionality and design, which has contributed to sales growth. This has been achieved in part due to Li Ning's hiring of adidas's top product designer to head its R&D/product design team. Moreover, Li Ning has also set up a new design studio in Korea to co-develop its sports lifestyle products and new "LNC" line with its domestic team.
Value-for-money pricing: Amidst improvements in functionality, Li Ning has further improved its product competitiveness by lowering the prices. Since 2015, Li Ning has set the prices of its products based on market dynamics as well as competitors' pricing (versus its cost plus margin approach previously).
Improvements in inventory and product mix: We opine Li Ning's efforts to improve product design and functionality amidst keeping a competitive pricing have translated to visible results. Channel inventory has improved over the past few years, with inventory turnover months of 8.8 in 2011 to 6.8 in June 2016. However, it remains significantly higher than its leading competitor, Anta, which has an average turnover months of <2.5. We view this as a potential area which Li Ning could improve significantly on. As out-of-season products are usually sold with significant discounts, Li Ning's efforts to improve the inventory turnover will translate to a sales mix with a higher proportion from in-seasons products and this will allow for higher margins, all else equal.
Stores optimization: As part of its restructuring plans, Li Ning has actively rationalized its store networks, closing loss-making stores and opening stores in locations with strong footprint traffic. As a result, store count has fallen from a peak of approximately 8,300 in 2010 to 6,169 stores in June 2016. Furthermore, the company has grown the portion of direct retailing by removing distribution rights of inefficient distributors. Hence, retail accounted for 36% of sales in 1H16 (versus 15% in 2010). What we do appreciate is that the company has experimented rolling out stores that are just 30-40 sqm (versus the normal retail sizes of 100 sqm). Such efforts allow Li Ning to lower rental expenses to improve margins. Thirdly, Li Ning's sales network is linked to an Enterprise Resource Planning system, allowing for real-time access to each store's sales and inventory information. This assists the company to manage its inventory well and also understand consumer preferences better.
Supply chain and channel inventory improvement: Li Ning consolidated its top-performing suppliers to shorten lead times for its products to reach the market, allowing the firm to react swiftly to consumer tastes. In addition, the firm also cooperates with Jingdong (NASDAQ:JD), one of the largest PRC e-commerce players and a direct rival to Alibaba (NYSE:BABA) on logistics. We believe Li Ning could benefit from JD's strong expertise in channel logistic management to further improve its operations.
Despite Li Ning's attractive investment highlights, we prefer to wait for further share price pullback before buying in.
Li Ning's share price has corrected approximately 14% from its peak of HK$5.89 in October 2016 to its current price of HK$5.28 (as of 8th February 2017). Based on the highlights above, we do believe that the company represents a good longer-term opportunity to benefit from the secular growth of the Chinese sportswear industry. Moreover, its operations have been improving in the past few years and we expect this to continue.
That said, we do note that Li Ning's share price was as low as HK$4.69 in January 2017. Hence, we would look for potential entry points when the share price pulls back further from its current levels.
Variant View
Lack of new products launch
Should Li Ning be unable to innovate consistently and launch new products, the firm's sales mix will likely comprise more out-of-seasons products, which are usually sold at a hefty discount. Moreover, it will lose market share to domestic competitors such as Anta, whose products are also priced competitively. Cumulatively, operating margins will be lower due to falling gross margins and lower sales, while operational expenses (e.g. rental) remain constant.